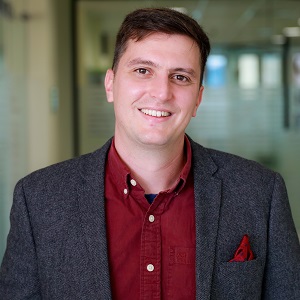 Assistant Professor
Uroš Prokić specializes in acculturation models, autonomy policy, and issues of national identity in the ex-Yugoslav context. He is particularly interested in the manner in which institutions steer national groups' attitudes and behaviors. He also focuses on normative issues related to governance and public administration. Dr. Prokic received two BA degrees in Philosophy and Religion from the American Public University, and an MA degree in International Studies from the University of Sydney. He holds a Ph.D. in Public Affairs and Policy from Portland State University (Oregon). Uroš Prokić was previously a researcher and political science lecturer in the Mark O. Hatfield School of Government at Portland State University, teaching classes in Theories of Comparative Politics, War and Morality, Nationalism, International Politics, International Organizations, and European Politics. His expertise lies in the cross-section between political theory, comparative politics, and international relations.
Education
Ph.D., Portland State University (Oregon), USA
MA, University of Sydney, Australia
BA, American Public University, USA
Office location
135W, Paramaz Avedisian Building
Email
[email protected]
Phone
(+374 60) 61 26 72
Office hours
Thursdays: 12:00-14:00
Wednesdays: 17:00-18:30
Areas of research and teaching specialization
Acculturation models, Minority nationalism, Autonomy policy, Development in ex-Yugoslav space
Courses currently taught
PSIA 344 Public Policy Analysis
PSIA 345 Development Policy & Strategy
PSIA 352 Economics for Political Science
PG 101 Politics & Governance
Publications:
Recent publications include "How Has Religiosity Influenced the Restrictiveness of Marriage Immigration Policy in Serbia, Denmark, and the United States?" (Hatfield Graduate Journal of Public Affairs) and a book review of Marko Grdešić's text entitled "The Shape of Populism: Serbia before the Dissolution of Yugoslavia" (Journal Southeastern Europe).