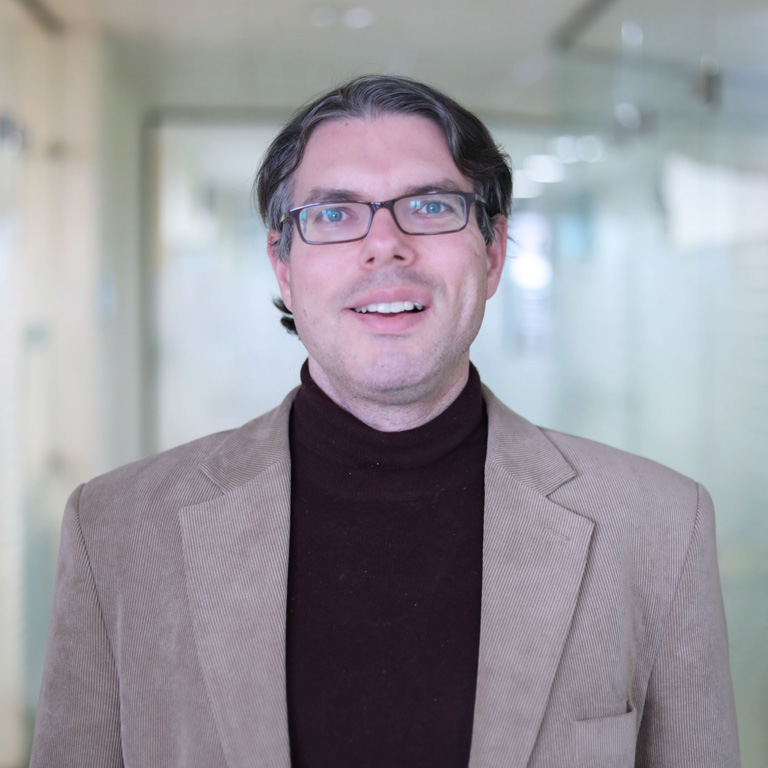 Associate Professor; Program Chair
Mica Hilson earned his MA in English and a BA in Mathematics from Emory University at age 18, then went on to earn his PhD in English from Indiana University. At AUA, he teaches the first-year course in Communications and the fourth-year Research Methods and Capstone courses, along with classes in American Literature and Discourse Analysis. His research on modern and contemporary literature, culture, and critical theory has appeared in a variety of scholarly journals, including The Comparatist, Doris Lessing Studies, and The Harold Pinter Review, as well as numerous essay collections, ranging from Security and Hospitality in Literature and Culture to The Ethics and Rhetoric of Invasion Ecology
Higher education
2010, PhD in English, Indiana University
1998, MA in English, Emory University
1998, BA in Mathematics, Emory University
Courses taught:
EC 104 - Introduction to Communications
EC 120 - American Literature
EC 121 - English Literature
EC 200 - Discourse Analysis
EC 290 - Research Methods
EC 299 - Capstone
Publications:
"The Cost of Whimsy in Mood Indigo and The Grand Budapest Hotel" in Re:Focus: The Works of Michel Gondry, eds. Jennifer Kirby and Marcelline Block. Edinburgh: Edinburgh UP (forthcoming in early 2020).
"Desire and Risk Management in Contagion Fiction" in Bodies of Contagion, eds. S.A. Polak, et al. Cardiff: U of Wales Press (forthcoming in early 2020).
"Slipping Queer Under the Radar" in Curricular Innovations: LGBTQ Literatures and the New English Studies, eds. William P. Banks and John Pruitt. New York: Peter Lang (2019).
"Reimagining the Family Tree: Property, Biopolitics, and Queer Kinship in David Malouf's Remembering Babylon and Patrick White's Riders in the Chariot." Pacific Coast Philology 53.2 (2018).
"'Rubbish of All Kinds': Domesticity, Squalor, and Squatting in Doris Lessing's Fiction." Doris Lessing Studies 36.1 (2018).
"The Little Revolution That Could: What can the world learn from Armenia's successful uprising against a would-be strongman?" Slate 10 May 2018.
"Bath-Time and Cruising Time: Temporality, Tension, and Release in Pinter." Harold Pinter Review 1 (2017): 50-65.
"The Forces of Habit and the Ethics of Self-Composture." The Comparatist 40 (2016): 128-43.
"Rooting for the Unrooted: Invasive Species and Uncanny Ecosystems in Peter Carey's 'Exotic Pleasures'" in The Ethics and Rhetoric of Invasion Ecology, eds. James Stanescu and Kevin Cummings. Lanham, MD: Lexington Books, 2016. 141-58.
"A Dwarf at the Table: Hospitality and the Non-Normate Body in Modern Literature" in Security and Hospitality in Literature and Culture, eds. Jeffrey Clapp and Emily Ridge. London: Routledge, 2015.
"'The odd man out in the family?' Queer Throwbacks and Reproductive Futurism in The Fifth Child" Reprinted in Contemporary Literary Criticism Yearbook 2013, Vol. 370, ed. Lawrence J. Trudeau. Farmington Hills: Cengage/Gale, 2015.
"A Doctor for Who(m)?: Queer Temporalities and the Sexualized Child." Co-written with Adrianne Wadewitz. Bookbird. 2014.
"Sharing Economies and Value Systems on the Nifty Archive" in The Feminist and Queer Information Studies Reader, eds. Rebecca Dean and Patrick Keilty. Los Angeles: Litwin, 2013.
"'The odd man out in the family?' Queer Throwbacks and Reproductive Futurism in The Fifth Child" in Doris Lessing Studies 30.1 (2011): 18-22.
"The 'Problem' of William Styron in The Confessions of Nat Turner" in Literary Griot: International Journal of Black Expressive Cultural Studies 14.1-2 (2002): 103-23.
E-mail: [email protected]
Phone: +37460 61 26 71
Office location: PAB 120W
Office hours: 1:00-2:30 MWF