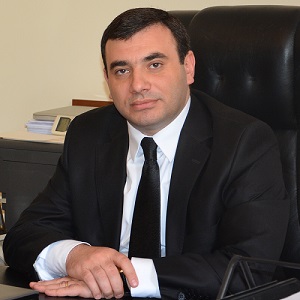 Senior Lecturer
Emil Babayan graduated from the AUA LL.M program in 2001 and became a researcher at AUA the following year. He also received a Master's degree in International Law from the Leiden University (Netherlands), specializing in international criminal law.
From 2008 to 2012, he served as Deputy Minister of Justice and has also been the Deputy Representative of the Republic of Armenia to the European Court of Human Rights (ECHR). Emil Babayan has served as Chairman of the Commission for Ethics of High-ranking Officials from 2012 to 2013. He has served as the Deputy Prosecutor General of the Republic of Armenia from 2013 to 2016. On February 6, 2017 Emil Babayan was appointed Adviser to Artsakh President. As Legal Adviser to the President, his tasks include ensuring that Artsakh is represented and included in discussions among international organizations and courts where the Republic's vital interest are concerned.
Emil Babayan is a lecturer at the American University since 2003. Courses taught include Nagorno-Karabakh conflict under international law and the European Convention on Human Rights.
Higher Education
2003 

Master of Laws (LL.M.), Leiden University


2001

, Master of Laws (LL.M.), American University of Armenia


1998 - 

Bachelor of Law, Vardanants University of Yerevan
Courses taught:
LAW 334: European Convention of Human Rights

LAW 349: Nagorno-Karabakh Conflict Under International Law

LAW 160: Law & Justice in Popular Culture

LAW 101: Law in Everyday Life
Awards:
Distinguished Alumni Award (2008) by the Department of Law of the College of Humanities & Social Sciences (CHSS).
E-mail:
[email protected]
Phone:
(+374 60) 61-27-55
Office Location:
109W (PAB)
Office hours:
(by appointment)