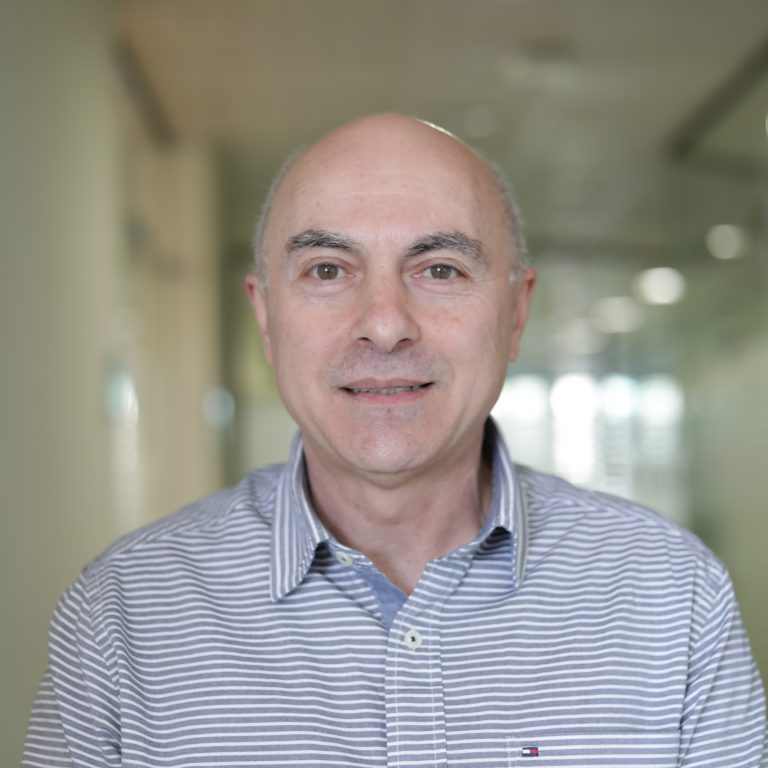 Adjunct Lecturer
David Davidian joined AUA in 2015. He received a BS degree in Nuclear Engineering from the University of Massachusetts and worked at the Connecticut Yankee Atomic Power Plant as a Reactor Engineer. David went on to graduate studies at the University of Massachusetts for Systems Engineering and Control Systems.
David worked for eleven years at NEC Electronics initially as a Diagnostics Programmer, later in HW and SW design, Technical Marketing, and eventually Engineering Manager. David subsequently worked for the Armenian Minister of Communications in 1992 and proposed an information infrastructure program for Armenia. Two years later, he introduced the same for Artsakh.
He spent eleven years at Sun Microsystems as a Field Applications Engineer, then as a Principle Engineer in Technical Intelligence Analysis.  From 2006 tp 2011 he worked at IBM Federal as a Technical Intelligence Analyst and as IBM Federal's Systems Architect for the US Air Force. David spent two years as a Systems Architect at Oracle Corporation before he and his family moved to Armenia in 2014.
David has US Patents in his name: Feed Forward Neural Network, Integer Divide Using Shift and Subtract, and Memory with Phase Locked Loop Input.
Higher Education:
1977, BS in Nuclear Engineering,
University of Massachusetts
Courses Taught:
How Things Work
The Scientific Method and Critical Thinking
Computer Organization
Network Programming
Technology Marketing
Publications:
Azerbaijan's Folly in Tehran, Febrary 9, 2019, Modern Diplomacy
Trump's Golan Heights Declaration: The Message to Azerbaijan, March 25, 2019, Modern Diplomacy
The Israeli Knesset, the Yezidi Genocide, and Machiavelli, December 2, 2018, The Times of Israel
The Curious Treaty of Kars, September 11, 2018, Modern Diplomacy
Oligarchies and Strategic Danger to Small-State Security, May 18, 2018, EVN Report
A Convenient Recognition of Genocide, May 17, 2018, The Times of Israel
Threatening to Recognize a Genocide, April 2, 2018, Times of Israel
Was Armenia's UN Jerusalem Vote Wasted? January 13, 2018, Modern Diplomacy
Returns on Diplomatic Investment: Zionist Policies and the Armenians, January 4, 2018, Modern Diplomacy
Why Azerbaijan is Unable to Offer Viable Solutions to the Nagorno-Karabakh Conflict , October 16, 2017, Modern Diplomacy
eBook: The Coming Cyber Storm- Examining the Russia-US-China Hacking Nexus (Chapter 4), September 19, 2017, Modern Diplomacy eBook 02
The Republic of Turkey, the 2017 G20 Summit, and the "Calculation", July 10, 2017, Times of Israel
The Price of Opportunism: Georgia's Saakashvilli and the Lessons of History, July 4, 2017, Modern Diplomacy
The Challenge of the Indigenous Arms Industry: The Ascendant and Dependent Classes, March 23, 2017, Modern Diplomacy
Геноциды, которых никогда не было: Дженин – Западный Берег и Ходжалы — Нагорный Карабах, (Russian translation of Jenin/Khojaly article), March 13, 2017, Arevelk Analytic Center
Genocides that Never Were: Jenin, West Bank, and Khojaly, Nagorno-Karabakh, March 6, 2017, The Times of Israel
The Programmable Diplomatic Kill Switch, publication date January 22, 2017, Modern Diplomacy
Политика Израиля по Голанским высотам и будущее Нагорного Карабаха (Russian translation of Golan Heights/Nagorno-Karabakh article), December 21, 2016, Arevelk Analytic Center
Сила и возможности: Турецкие стратегические притязания от Северной Сирии до иракского Курдистана (Russian translation of Turkish Stratigic Positioning article), December 21, 2016, Arevenk Analytic Center
Power and Opportunity: Turkish Strategic Positioning from Northern Syria through Iraqi Kurdistan, November 29, 2016, International Affairs Forum
President-elect and a safer south Caucasus? November 16, 2016, Transconflict
European Union's No-Sum Game on Nagorno-Karabakh, November 1, 2016, International Affairs Forum
Denial and its Unfortunate Diversity, October 23, 2016, Times of Israel
Armenia's new government and policy analysis, October 18, 2016, Transconflict
Land for Peace – Why Would it Ever Work?, August 15, 2016, Times of Israel
Events in Armenia, July 2016 – fortuitous or planned conflict management?, August 11, 2016, Transconflict
The Deadly Cost of Silence on Genocide,, May 23, 2016, Times of Israel
Nagorno-Karabakh and the fate of Azerbaijan's hydrocarbon transport pipelines, May 12, 2016, Transconflict
Nagorno-Karabakh and negotiation insanity, April 26, 2016, Transconflict
[Russian Translation of] European Union's No-Sum Game on Nagorno-Karabakh, November 21, 2016, Arevelk Analytic Center
Situational Awareness in UAV Infrastructures, September 2015, Acedemia.edu
[Armenian translation of Situational Awareness in UAV Infrastructures]: Անօդաչու Թռչող Սարքերից ստացված տվյալների մշակման խնդիրները, September 2015, Acedemia.edu
Office location: 330W/PAB